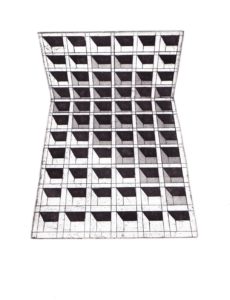 Donnerstag, 12. Januar 2017, 21 Uhr, diffrakt | zentrum für theoretische peripherie
In Kooperation mit Please Press.
A handmade colouring book for strangers, "Ersatz Empiricism" is composed of strikingly simple geometric etchings captured and reproduced in different moments of the complicated process of their production. We find them incredibly beautiful, so much so that we decided to make a book out of them, a book in which you can play!
Alongside the dual launches, Please Press and Tegan Emerson will discuss the mutually entangled process that brought about both the publishing endeavour and its first book – a process that took up the better part of a summer and taught a great deal about the world of ink, paper, acid, metal and what time and hands can make them do.
---