Saturday, 30 March 2019, 7.30 pm, diffrakt | centre for theoretical periphery
Multi-media conversation with
Émilie Notéris | Alison Sperling
In 2368 (though the date is somewhat disputed), Ursula Le Guin's Athsheans rise up against their Terran colonisers to regain planetary sovereignty and save their local ecosystem from looming destruction… Of course, multitudinous examples could be added. Located somewhere between what we tend to call "technology", "society", and "nature", SF has always explored questions of ecology, both in a narrow and in a broader sense. Accordingly, in this session of SO FAR, we will return to many of the questions raised over the past months while focussing on the specific ecologies of world-building: What does SF have to offer with respect to discourses around "ecology"? And how may it expand, explode or deconstruct what is even understood as "ecology"? Moving from Star Trek to Le Guin to Shelley Jackson to Joanna Russ to Octavia Butler to Kim Stanley Robinson to Jeff VanderMeer (etc.), we will engage a variety of concepts and discourses ranging from environmentalisms, materialisms and feminisms to the queer and the weird.
The event is part of the series SO FAR | Science-Fiction(s), with the generous support of the Senatsverwaltung für Kultur und Europa.
Graphic design: Anna-Luise Lorenz
---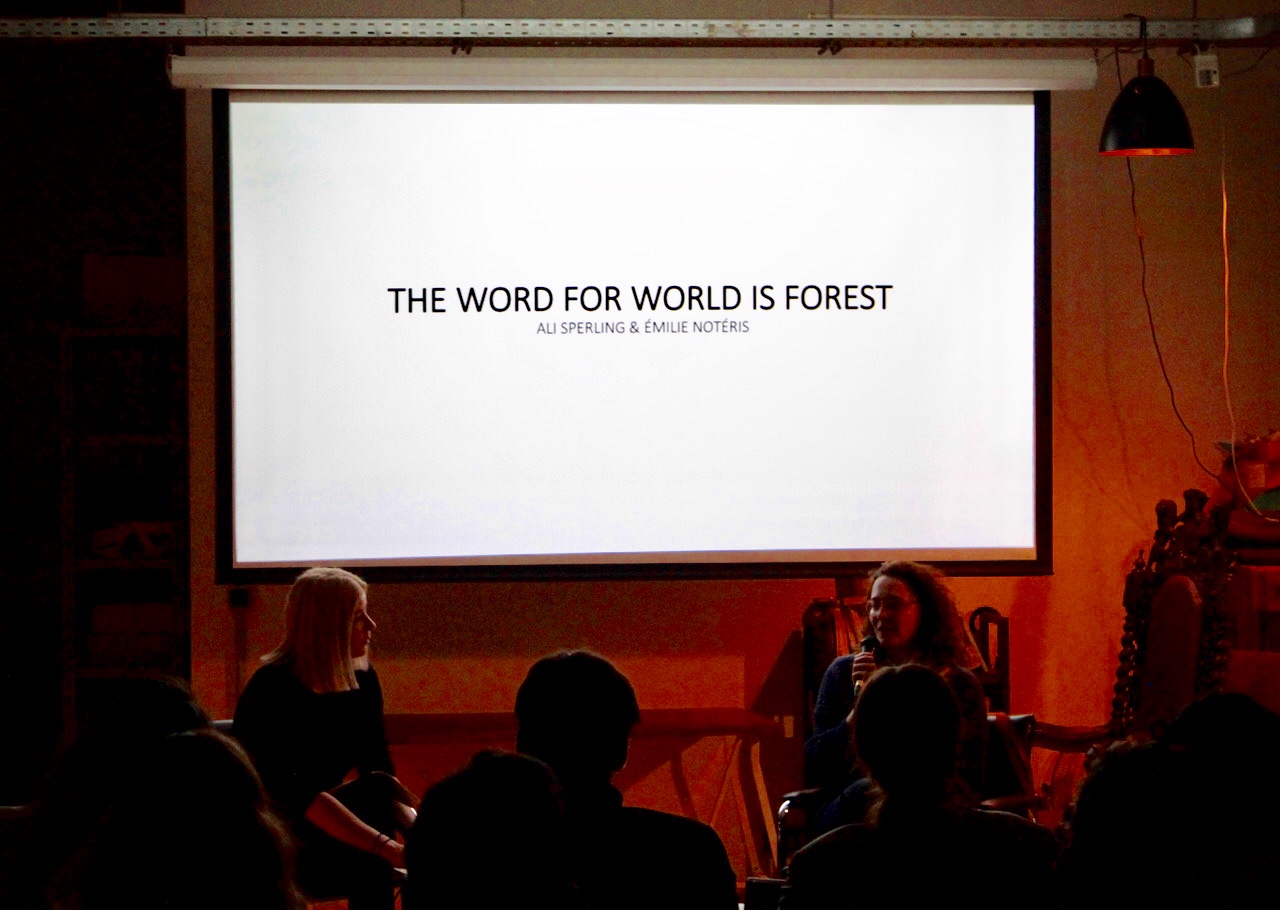 ---
Émilie Notéris is a textworker, born in 1978. She prefaces the anarchists Voltairine de Cleyre and Emma Goldman (Femmes et Anarchistes, Blackjack Editions, 2014), translates ecofeminists (Reclaim!, Cambourakis, 2016) and invites xenofeminists (week-end Eco-Queer, Bandits-Mages, Bourges, 2015). Her latest book, La Fiction réparatrice, published in 2017, puts into practice and theory the art of Japanese kintsugi to propose a queer transcendence of binary cleavages, through the study of popular cinematographic fictions.
Alison Sperling is from Oakland, California, and received her PhD from the University of Wisconsin-Milwaukee in Literature and Cultural Theory in 2017. She has taught in English and Women's and Gender Studies departments since 2013 and is currently a Postdoctoral Fellow at the Institute for Cultural Inquiry Berlin, where she is revising her first book manuscript titled Weird Modernisms. Her research interests include queer and feminist theory and science studies, 20th-21st century American fiction and culture, non/posthuman theory, and inquiries into the Anthropocene. She has published in a variety of journals and books, with chapters forthcoming in the Bloomsbury Handbook of 21st Century Feminist Theory, collections on Star Trek as well as on plants in speculative fiction, and an interview with Jeff VanderMeer in the first collection of essays on his work titled Surreal Entanglements.